Welcome to Shepherd of the Valley Lutheran Church
Come join us for our Worship Service on Sundays at 10am
Learn More
Shepherd of the Valley and the Corona-virus
March 28, 2020
 Brothers and sisters,
  Last Sunday.  It was our first service online… okay, a bit rough but it worked!  We had about the same participation as we would have had otherwise (plus a few friends and family that have moved away but could join us this way).   We've worked out some bugs, purchased some needed equipment, and hopefully it will go better tomorrow.
Tomorrow!   We will worship together – just not in our chapel!  We'll do this again remotely.   Our service will start at 10:00 and you can watch it live.  But don't just watch, please PARTICIPATE!  This is our worship service!  Sing… pray…. join in!  You will likely need to scroll down the page just a bit (for some reason, the video doesn't go to the top) but you'll find it.  10:00 Sunday!   Sermon:  "The Secret to Contentment."  The easiest way to do this is to go to our facebook page at www.facebook.com/shepherdofthevalleyoceanside  Note you do NOT need to be a facebook person to do this. After the service, I'd appreciate a quick email just to say you worshiped with me (KolkmanAllen@gmail.com)
Sunday Bible Study.   We'll have Bible Study again!   Yup, via the internet.   Topic:  "Fear Not – A Study of Isaiah Chapter 43."  It will be at the usual time, 9:00 – 9:45 on Sunday just like before this whole corona thing, right before the worship service.   No need to register (we can handle up to 100)… I'll be leading things from my office at church and YOU are invited and encouraged to participate (consider your arm twisted).  Just go to https://zoom.us/j/942155381 (Meeting ID: 942 155 381).   Click on the link today because you will need to download things before you can start tomorrow.  There's no cost involved.  Be sure to click "yes" for the audio and video.  You'll only need to do this once.   Then, at 9:00 tomorrow, just click on that link and BINGO, you're in.  We'll all be able to see each other and talk with each other.  You can also put this on your smart phone.  If you don't have a camera on your device, you still can participate.  We are doing this via ZOOM (thank you Terry and Lori Dowe) but you do NOT need to have ZOOM, you just need to sign up once (then just click on the link to enter the study).  Simple.  You'll be able to converse with each other.  Wave to each other.   Questions?  Need help?  Contact Lori at loridowe@gmail.com   Come join us!  Tomorrow!  9:00 AM.
This will be via ZOOM.   To sign into the Bible Class just click on this link https://zoom.us/j/641834201.   The first time you sign in you will be asked to download a driver for access to your microphone/video camera. Then just click on the link at 9:00 AM on Saturdays
Stewardship!   Offerings may be mailed to us at 

Post Office Box 406, San Luis Rey, CA  92068

 (it's best not to mail it to our street address).   You also can now donate electronically.  We are using Zelle.  You can use your computer or smart phone to do this.  Zelle is set up differently depending on the financial institution; please refer to the following link for Zelle's official instructions:  https://enroll.zellepay.com   Once an account is set up you'll need to identify the account to send money to.  Please use svlcfs@outlook.com to identify Shepherd of the Valley Lutheran Church.   Questions?  Need help?  Contact Josh at  Joshua.Cerny@gmail.com.  
Keep in Touch!   We encourage you to contact members of our family!  Perhaps email or phone 2-3 each day!   Perhaps just to say "hi"  ….  maybe just to check in and see how they are doing…. maybe to ask for prayer requests….  The important thing is just to contact each other.   A directory is attached to help with this. 
Please send your Prayer Requests to me at KolkmanAllen@gmail.com and I'll include them there, so we all can join with you.   This is by subscription.
Finally, you can view the message and recommendations of our church body ( https://www.psd-lcms.org/coronavirus ).   And of course, we all need to remember the mantra of this time:  wash those hands, don't touch that face!
Isaiah 41:10, "Fear not, for I the Lord am with you; be not dismayed, for I am your God.  I will strengthen you, I will help you, I will uphold you with my hand." 
Pastor Allen
Current Bible Studies
Currently not meeting until further notice!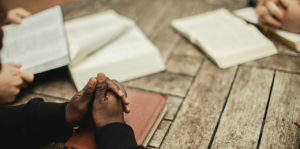 Pastor Allen
The Gospel Luke
 This study we will dive into the Gospel of Luke 
 Summary of the Gospel of Luke
This summary of the Gospel of Luke provides information about the title, author(s), date of writing, chronology, theme, theology, outline, a brief overview, and the chapters of the Gospel of Luke
Luke was probably a Gentile by birth, well educated in Greek culture, a physician by profession, a companion of Paul at various times from his second missionary journey to his final imprisonment in Rome, and a loyal friend who remained with the apostle after others had deserted him 
 Come join us  
Sundays @ 9am in the Chapel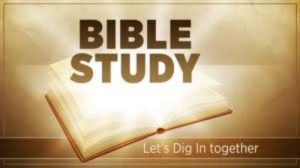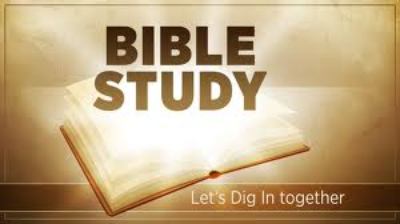 Before Amen
By Max Lucado
I doze off when I pray. My thoughts zig, then zag, then zig again. Distractions swarm like gnats on a summer night. If attention deficit disorder applies to prayer, I am afflicted. When I pray, I think of a thousand things I need to do.
I forget the one thing I set out to do: pray.
Thursdays 7:00pm. at K Berni home
kberni@aol.com for info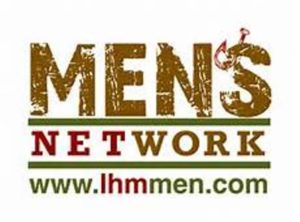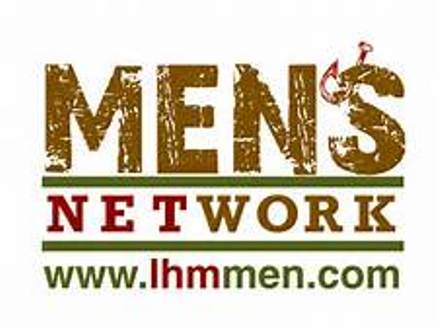 Men's Bible Study
Blessed is the Man
Psalms of Devine Wisdom
Men who want to know a real Savior. With the help of this devotional Bible study, you can create a comfortable, yet challenging , place for men to be men, as they live according to God's purposes.
This study helps you live out the greatest adventure every man is given: a life rooted in God's word and anchored in blessings of Christ.
Second Saturdays in the Community Room 8am

Past Featured Events
October 2019
November 2019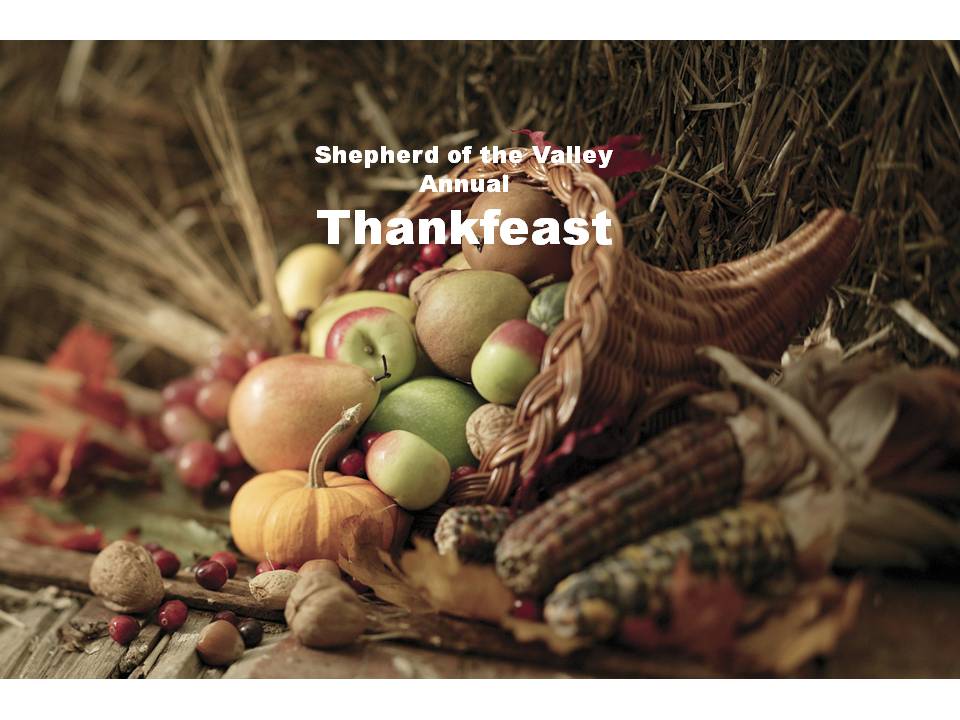 Free Thanksgiving Turkey Dinner with all the trimmings. Shared with love, gratitude, faith and embrace. Be sure to invite family,friends, neighbors, coworkers and especially Marines! We need lots of food and lot fo volunteers to provide it! Shepherd of the Valley Tradition for over 40 years
Find out more »
December 2019
February 2020
March 2020
+ Export Events
Come Worship With Us
Sundays at 10am
Shepherd of the Valley Lutheran Church
4510 N River Rd
Oceanside, California 92057
Our new mailing address is: (4/1/19)
Shepherd of the Valley
PO Box 406
San Luis Rey, CA. 92068