Welcome to Shepherd of the Valley Lutheran Church
Come join us for our Worship Service on Sundays at 10am
Learn More
 NEWS
Updated: August 01, 2021
 SUNDAY WORSHIP  We are indoors.   We have returned the sanctuary to its normal configuration and to our pre-covid service.
Communion is celebrated every Sunday. If you have never celebrated this with us, we invite you to speak with the pastor before communing.  We welcome those who are baptized, who are repentant, and who believe that Christ is truly present in the bread and wine. Young children and those seeking a blessing instead are welcome to come forward, arms crossed. We use wine, but we have some white grape juice also available for those who should avoid wine.  We practice "First Communion" for children 10 and/or in the fifth grade with special classes of preparation.
 For those who can't make it in person, the service will be streamed live on our Facebook page and slightly delayed on our website.  If you have any questions about our worship service email the church at svlcoceanside@gmail.com    
For those away or who need to remain in strict isolation, the service will be streamed live on our Facebook page and slightly delayed on our website.
If you regard it better for you to continue isolating at home, that is fully respected and we hope you will join us live online.
Fellowship Returns!   Shepherd of the Valley is a friendly church!  We embrace each other and LOVE to talk with each other!  It's a good thing… and we greatly encourage it.   Of course, we are also in this pandemic and so need to enjoy this time SAFELY.   Goodies will return this Sunday and sign-ups will be out for future weeks.  Some things to keep in mind:
+  Please practice social distancing with those you do not live with – at least 6 feet.  Spread out.
+  Please do NOT hang around the fellowship counter where the food is; receive your goodie and then please step away.
Our hosts will provide goodies in such a way that no one will be touching food that others will consume.
Ministry Meeting:  Meets the first Thursday of each month via zoom (June 3).  If you have any desire to observe this meeting you are more than welcome to join in.  Contact Bruce at (svloceanside@gmail.com
) if you wish to be sent the link.
Bible Studies!
Sunday – Adult Bible Study.  A new weekly topical Bible study lead our guest Pastors.
Wednesday –    Our Women's study  Wednesdays at 5:00pm. 

 

Questions?  Contact svloceanside@gmail.com

We strongly encourage all ladies to participate!
Men's Bible Study Is on hold for the moment. We will announce when we are back. For further information send an email svloceanside@gmail.com.
Weekday Evening  Rev. Allen and Debbie Kolkman invite you to join with them in an inspirational Bible study. This study is on break now until September.  
 After Church Pot Luck -The Monthly after church luncheon potluck has started back up. Our next one will be August 15th.  A signup sheet is on the information table. Fun for all!
Keep calm!  Keep the faith!
 John 10: 11 "I am the good Shepherd. The good shepherd lays down his life for the sheep" 
 Worship Service streaming and Sermon Audio
Technical difficulties have prevented our weekly Worship posting. We apologize and hope to be back next week.


Past Featured Events
October 2019
November 2019
December 2019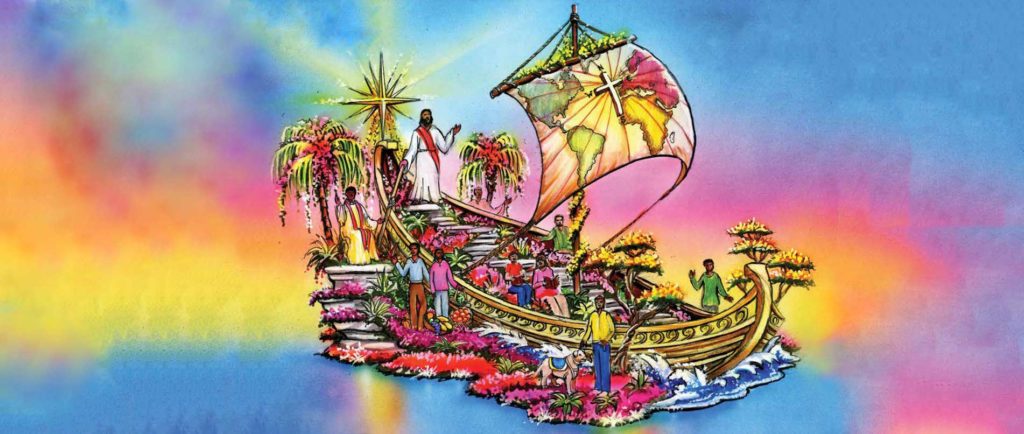 Petal Pushers range in age from 13 to 85. Individuals, church groups, families, senior citizens, and Girl Scout troops are a sample of the groups that participate each year. Join the Petal Pushers® and help decorate the 2020 Lutheran Hour Ministries (LHM) float and others. This years float is entitled Anchored in Jesus—the only Christian-themed float in the Rose Parade. Meet at the church at 6:00am car pull to Irvindale in Los Angeles' San Gabriel Valley.
Find out more »
February 2020
March 2020
April 2020
+ Export Events
Come Worship With Us
Sundays at 10am
Shepherd of the Valley Lutheran Church
4510 N River Rd
Oceanside, California 92057
Our new mailing address is: (4/1/19)
Shepherd of the Valley
PO Box 406
San Luis Rey, CA. 92068