We Support Ministry to the Armed Forces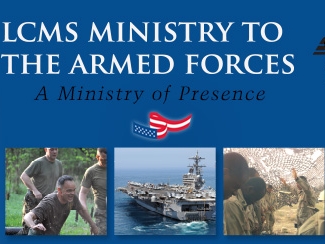 Ministry to the Armed Forces: http://www.lcms.org/armedforces
Since the Civil War, LCMS pastors have served as military chaplains. Today, The Lutheran Church—Missouri Synod's Ministry to the Armed Forces supports 173 chaplains. Among these chaplains, 70 are active duty LCMS chaplains and 80 are serving Reserve and National Guard units. Currently, one of these Reserve/Guard chaplains is mobilized in Bahrain. LCMS Ministry to the Armed Forces also supports 23 Civil Air Patrol chaplains.
Our active duty members usually work on a base or post, with a large support staff to care for their needs, such as financial counseling, baby sitting, health care, etc. However, our reserve community and their families are often located large distances from those support structures. Our hope is that our LCMS congregations can reach out to these families, especially when their loved ones are deployed, and help care for many of their needs.
LCMS Ministry to the Armed Forces initiated Operation Barnabas in 2007 as a response to the ever-increasing needs of returning servicemen and women. The program's goal is to equip and encourage LCMS congregations and their members, as well as local Operation Barnabas district counselors, for compassionate care and Gospel-sharing outreach to our military members, families and veterans.
Mark J Schreiber, Director, Ministry to the Armed Forces
Phone: 888-930-4438
Website: www.lcms.org/armedforces
Address: P.O. Box 790089 St. Louis, , MO 63179-0089